---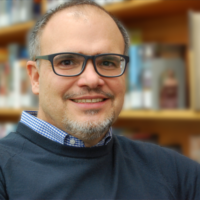 Teo Salgado is an independent educational consultant based in Toronto, Ontario. He is a highly regarded higher education professional with more than 25 years of experience in international student recruitment, admissions counselling and alumni relations at the University of Toronto and Western University. In recognition of his professionalism and service orientation, he was awarded the University of Toronto's Simcoe Hall Vice-Presidents' Staff Award and Arbor Award.
Teo completed an Honours Bachelor of Arts (with High Distinction) at the University of Toronto, and a Master of Arts at McGill University in Montreal, QC. To remain current on university admissions processes, Teo completed (with Distinction) the graduate certificate in College Admissions Counselling at the University of California, Los Angeles (UCLA), and participated in the Independent Educational Consultants Association's (IECA) Summer Institute Training program at Swarthmore College. A certified project manager, he will ensure you stay on schedule. In addition to English, Teo is fluent in Spanish and Portuguese.
When he's not at the office, Teo enjoys traveling and has visited more than 70 countries in the Americas, Africa, Asia, Europe and the Middle East. He also loves spending time in the outdoors and may occasionally be found on a hiking trail (usually deep in the northern Ontario back-country) or kayaking with his wife Masha. Teo's commitment to education stretches beyond his professional practice. He volunteers as a director on the McGill (Toronto) and University of Toronto alumni associations, serves as a University of Toronto alumni mentor, and advises Loran Scholarship recipients. Teo also serves on the board of directors of Higher Education Consultants Association (HECA), IECA Global Education committee, and is co-chair of the 2022 HECA national conference. When you meet him, you'll soon find he's an avid supporter of Futból Club Barcelona, Toronto Football Club, and of his hometown Miami Dolphins.



DELIVERY MODE:

MEMBERSHIPS
---
Carrie Ngo is an experienced counsellor who has worked in Canada and Hong Kong. In Hong Kong, she worked at St. Paul's Co-educational College, where she guided IB and HKDSE students to top-ranking universities in the UK, US and Canada. Currently, she works with French Baccalaureate students, helping them apply to schools across North America and Europe. Carrie brings cultural sensitivity, strong communication and organizational skills to support and guide students as they pursue their post-secondary endeavours.
DELIVERY MODE:

David Zutautas David Zutautas is an educational professional with 28 years of experience in university admissions, working at both universities and high schools. He is a past-President of the International Association for College Admission Counseling (International ACAC), and has held several leadership roles within the National Association for College Admission Counseling (NACAC) as well the Council of International Schools (CIS). David has been a member of the College Advisory Committee of the International Baccalaureate Organization (IBO). He has spoken at numerous international conferences addressing topics on curriculum in admission, student mobility, ethical recruitment of students as well as a variety of other topics focused on the successful transition of secondary students to university. Following 25 years of working in university admissions, recruitment and financial aid for the University of Toronto, David joined the University Counseling team at Branksome Hall Asia in Korea. His students were invited to join more than 75 universities in 14 countries across 4 continents. As a result of his long service and collaborative nature, David has developed an extensive professional network with colleagues at the university and secondary school level.
DELIVERY MODE:

Filiz Altınoğlu is an ICEF certified Education Consultant for pre-university education in Canada. She offers families a broad perspective in school search to find the school where the student would best fit and thrive. She helps families to navigate through the overwhelming application process to highly competitive schools which require essay writing, assessments such as TOEFL/SSAT/CSS and selection interviews. Filiz is highly experienced in the applications to first tier schools such as Upper Canada College, University of Toronto Schools, Branksome Hall as well as the Special High School Programs within the Public School System such as Claude Watson Arts Program, William Mac Kenzie Science and Math Program and TOPS. She is a mother of two teenagers and a member of the Parent Association at Upper Canada College and Earl Haig Claude Watson High School. She is also a Volunteer Toronto advisor.
DELIVERY MODE:

---




Ready to start?
Contact us for an introductory meeting.